The Isle of Man's "most patriotic street" during World War One has been celebrated with a blue plaque.
The 39 houses on Castletown's Queen Street saw 40 men enlist to fight in the conflict, six of whom were killed.
In 1916, the Mona's Herald newspaper reported no Manx street "and certainly few in the British Isles of a similar size [had] given so many men".
Peter Heaton, who knew some of those who returned, said he was proud "so many Manx men boosted the war effort".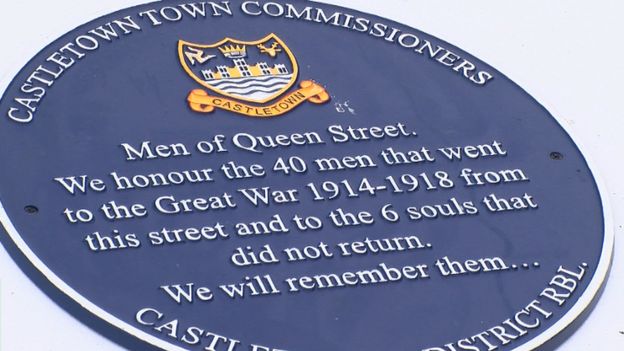 About 8,000 Manx men served in WW1, more than 1,100 of whom died as a result of the conflict.
Mr Heaton, who moved to the street in 1944, said he remembered "one chap, who only had one leg, [and] another fellow who was confined to his bed, because he had been gassed".
"At the time, I was more interested in playing on the beach, but now when I look back, I feel proud that so many Manx men boosted the war effort".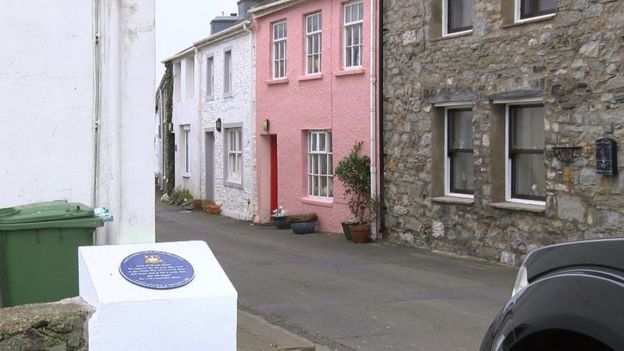 The Manx Military Museum's Ivor Ramsden said the street's story was "heartbreaking" and brought home "the horror of war".
"You can just imagine people in those houses receiving telegram after telegram from the War Office," he added.
"These people are more than just a name on a war memorial – they had families and they were loved."
The plaque was installed as a joint venture between the Royal British Legion and Castletown Commissioners.